About Us
Inclusive Furniture was created to fulfill the needs of people who use wheelchairs and their friends, family and carers. At Inclusive Designs we believe in addressing the needs of disabled people as a first choice, not an afterthought. We manufacture outdoor furniture specifically adapted to accommodate wheelchair-users. This creates a more inclusive environment - no longer stuck at the end of the table! Our furniture is also mother and child friendly as its perfect for pushchairs. Our heavy duty wooden picnic benches are suitable for indoor and are fully treated for outdoor use. All our stock is manufactured in the UK using red wood from sustainable sources.

We offer free delivery to all parts of the UK. If you would like a quote about bespoke designs please get in touch on our contact form - here. Contact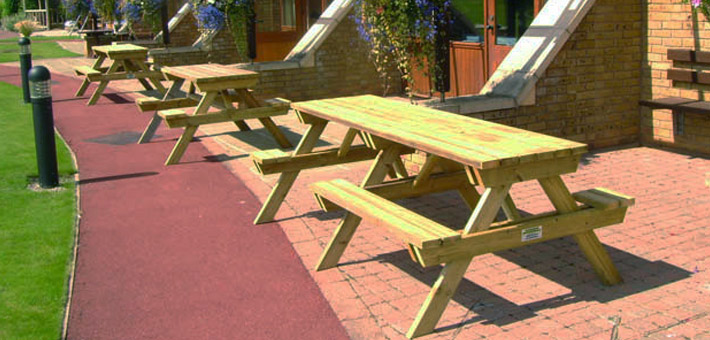 Not along ago we noticed that in our local park there was adequate seating for the non-disabled but none for the wheelchair-user, the more we looked the more we saw a complete lack of effort in complying with regulations and laws specifically brought in to counter this ignorance and discrimination.
We decide to act, our plan was:
Design furniture with the wheelchair-user in mind
Act within both the Disability Act and the Equality Act
Provide quality products for non-disabled and disabled alike.
Consider the elderly
Make the products affordable
Make rental to events an option
Use sustainable products where possible
We then thought we need to provide picnic benches and outdoor furniture for people who use wheelchairs. There is definitely a need for disabled, easy access outdoor furniture. All made robustly to take the knocks from wheelchairs and manufactured from sustainable wood from environmentally friendly sources. Thay also need to make the user feel inclusive.
See Standard Bench with 1 Space for a Wheelchair
See Standard Bench with 2 Spacesfor a Wheelchair
See Large Bench with 1 Space for a Wheelchair